Makeup
Celebrity Wedding Looks You Should Definitely Not Try
Sometimes, it's better to know what not to do. Here are three of the most cringe-worthy celeb wedding mistakes ever, and how to avoid them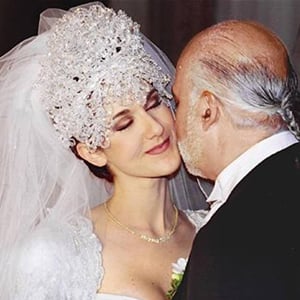 For every tasteful wedding out there, there's one that's jaw-dropping-awful. And chances are you've probably witnessed one of the later weddings in your day. For me, this came in the form of a nightmare-inducing YouTube video. Here's exactly what the bride looked like: floor length candy apple red hair, a long tie-dyed blue dress, overly tweezed brows, and absolutely no makeup with the exception of bubble gum pink lipgloss.
And while there's nothing wrong with breaking the mold and embracing fun trends on your wedding day, its important to stick with styles that won't leave you cringing later on (would you be happy showing your kids those pictures?). Fortunately for this bride, she can forever live in YouTube anonymity. Unfortunately for celebrity brides, they must live with their bridal choices long after the honeymoon.
In honor of awful wedding styles everywhere, we've selected our top three worst celebrity wedding looks of all time. See what these brides did wrong and, more importantly, how to avoid their mistakes on your big day.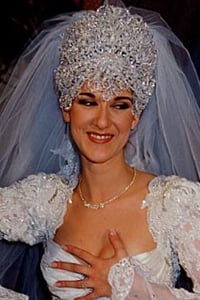 1. Celine Dion's hair flair gone wrong
There's nothing wrong with a little hair flair (emphasis on the 'little'), but this is just outrageous. Dion wore this beehive-esque tiara when she wed her manager Rene Angelil in 1994. Embellished with more than 2,000 Australian crystals, the seven pound tiara had to be sewn into Dion's hair for support. Talk about a migraine!
Avoid over-the-top hair accessories on your wedding in favor of simple, delicate pieces that enhance, rather than detract from, your look. For further guidance, check out these examples for
bridal hair flair on the cheap
.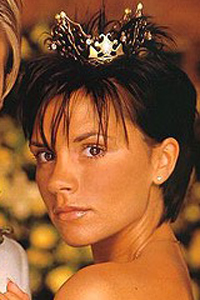 2. Victoria Beckham's overly natural makeup
Victoria Beckham is now a world-renowned fashionista with her own successful clothing label, but Mrs. Beckham then was, well, not quite there yet. There's a lot to be said about this look, but we'll focus on the makeup for now. The number one bridal makeup mistake is applying too much color, but Victoria's overly nude makeup makes for a blah complexion. Less is more, but you don't have to forgo color completely.
For an au natural glow that won't wash you out, use a light blush with your favorite bronzer to define your face. Use soft browns and nudes to play up eyes, whisk on a coat of mascara, and top the look off with a neutral lip-gloss for a natural yet noticeable look.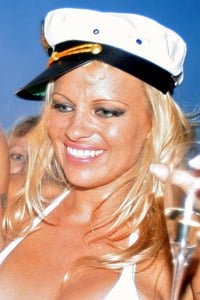 3. Pamela Anderson's over-tweezed brows
For the queen of "Bay Watch" to wed then-husband Kid Rock in anything other than a white bikini would have been the real shocker (come on, it's Pamela we're talking about). However, it wasn't just her outrageous bridal bikini or captain hat that we noticed. Anderson's thin, penciled-in brows made her look more like a cartoon character than a soap star.
To steer clear of super thin eyebrows, get them waxed at least three weeks before your wedding, tweezing the stragglers just before your big day. Be sure to have a brow pencil handy as well.