Body
Boffo Butt Lifts and Botox: Cosmetic Procedures Continue to Thrive in the U.S.A.
Baby's no longer the only one with back. 10,000 buttock augmentations were performed in the U.S. last year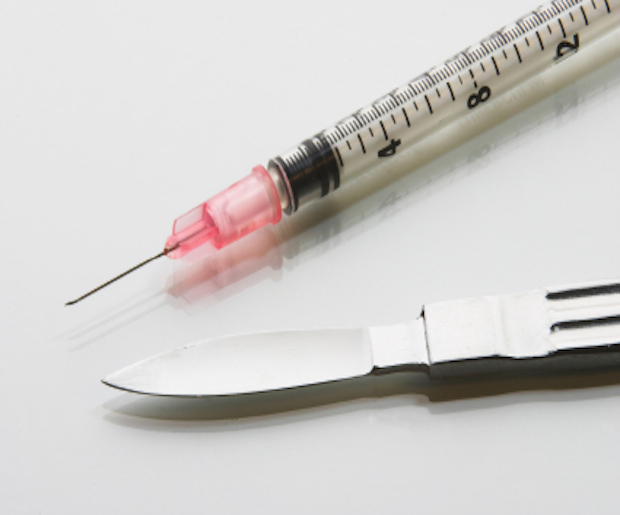 If you'd like to have fat siphoned out of one part of your body and injected into your butt area, you're not alone. That procedure, known as the "Brazilian Butt Lift," was one of several that grew in popularity in 2013.
According to the American Society of Plastic Surgeons (ASPS), their industry
enjoyed a healthy 3 percent increase last year
, with eyelifts, facelifts, neck lifts and the aforementioned butt lifts seeing the biggest boosts in popularity.
READ: My Mom Made Me Get Double Eyelid Surgery
"The demand for plastic surgery remains strong, with our statistics showing increases in both cosmetic surgical and minimally-invasive procedures," said ASPS President Robert X. Murphy, MD.
In all, some 15.1
million
cosmetic procedures were performed in the Land of the Free in 2013, including 290,000 boob jobs (72 percent of which used silicone implants rather than saline) and 6.3 million Botox injections.
"Facial rejuvenation procedures were especially robust last year, with more Americans opting for facelifts, forehead lifts, eyelid surgery, fillers and peels." In fact, use of fillers like Restalyne and Perlane increased 13 percent and chemical peels were also more popular in 2013 than they'd been in years prior. Laser hair removal and microdermabrasion while still popular (1.1 million procedures and 970,000 procedures respectively) remained flat. The big star when it came to injectables was hyaluronic acid, which was used in almost 1.7 million procedures and saw a huge 18 percent increase year over year.
"With new devices and products hitting the market each year, there are more options and choices available to consumers wanting to refresh their look or a little nip and tuck," Murphy noted.
One such "new fangled" remedy that clearly appealed to the masses and enjoyed a surge in popularity was the neck lift. More than 55,000 aging necks received a little TLC, up 6 percent from 2012 and, with the neck one of the first parts of the body to exhibit signs of aging, experts only expect those numbers to increase as techniques improve and word of mouth and media coverage help to demystify the process.
It's nice to note that not all of these procedures stemmed from vanity. Breast reconstruction rates are also on the rise and Murphy hopes that raised awareness was one of the reasons why.
"In 2012, we launched a multi-year
breast reconstruction awareness campaign
to educate, engage and empower women to make informed decisions about their healthcare following breast cancer diagnosis. We hope that these efforts will continue to increase awareness regarding the benefits of post-mastectomy breast reconstruction."
READ: 8 Products that Work Better than Botox