Posted by Total Beauty 01/25/12 at 02:36PM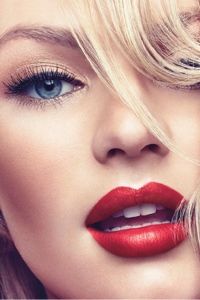 The month of love is just around the corner, which means a trip to the Hallmark store for many ... and a trip to Ben & Jerry's for others. If you've got a date for V-Day and want to break out of your makeup box but don't know how, who better to ask for tips than the gorgeous Victoria's Secret Angels? I got the step-by-step tutorial on how to copy Candice Swanepoel's amazing red lips from celebrity makeup artist Colleen Runne:
Step 1:
To prepare lips for a perfect lip color application, exfoliate by using a lip scrub , removing any dead skin. Try
VS Makeup PRO Smooth FX Lip Scrub & Balm
.
Step 2:
Apply lip balm. "This is an important step when using red or dark lip colors as they will grab any dead skin and make your lips look blotchy and dry," says Runne.
Step 3:
After your lips have marinated in the balm, apply
VS Makeup Perfect Lipstick in Showstopper
. "Use a lip brush when applying the lip color as it allows for precision and clean lines along the outer lip area," says Runne.