Posted by Total Beauty 11/12/12 at 12:01PM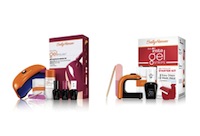 The appeal of a gel manicure is pretty huge: They last weeks without chipping and dry immediately (no smudges reaching into your purse for your keys). The downsides of course are an obligatory trip to the nail salon (both for application and removal) and the fact that you have to drop almost twice the cash as you do for a regular mani.

And then comes Sally Hansen, and the chance to get all the benefits of gel manis with none of the downsides. Their new Salon Gel Polish, $12.99, lets you do an at-home gel manicure. The starter kit even comes with a UV light to cure the polish. You get the same long-lasting results and instant dry time -- without going to a salon.

And for those of you who are fans of the Sally Hansen Nail Strips, you can use the Salon Insta-Gel Strips, $14.99, for a gel manicure that's basically foolproof to apply. Then, when you want to remove your mani, you can do it at home with your regular acetone nail polish remover. Seriously, it couldn't be easier.

The Salon Insta-Gel Strips and Salon Gel Polish will be available this November at mass retailers and drugstores everywhere. Check out the Sally Hansen Facebook page for more info.