Posted by Total Beauty 06/01/12 at 11:20AM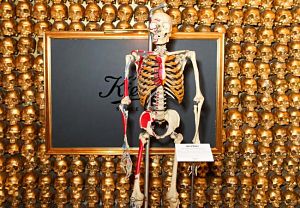 Looking for an excuse to pop into the Kiehl's store? Their new "Meet Mr. Bones" event is perfect. From June 2 through July 14, 13 celebrity-designed skeletons (like the Kiehl's mascot Mr. Bones) will be on display in stores in the New York area.
Kiehl's is donating $200,000 to charities chosen by their celebrity partners (which include Alicia Keys, Padma Lakshmi, and Zach Galifianakis). The charities support children's causes, the environment, and HIV/AIDS causes. Also, at the end of the six weeks the skeletons will be auctioned off for charity.
If you do go into the stores you can see the skeletons in person, get free skin care consultations, and enter to win one of 206 prizes (one for every bone in the body). And even if you don't live in the New York area, you can go to the Kiehl's page on Facebook and see photos of Mr. Bones and enter for a chance to win prizes.