Posted by Total Beauty 11/05/12 at 02:14PM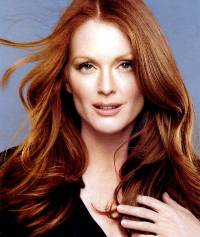 Seems that after more than two decades in the business, Julianne Moore's award-winning career is still on the rise.
Her latest role? Mega brand L'Oreal Paris' new global spokeswoman. Moore will be the face for the company's new anti-aging skin care line in Europe called Cellular Renaissance, launching in January. Not surprisingly, the gorgeous redhead will also represent the brand's hair color products in international markets in 2013. In her interview with WWD, Moore says she's excited to represent a brand she actually uses and believes in. "Every modern woman shops everywhere for beauty, but for me it's mostly the airport or the drugstore. It's nice to be promoting something that is accessible to everyone."
Though L'Oreal has yet to disclose her role in the US market, we're guessing she'll probably promote an anti-aging hair care line, wrinkle serum, or both. After all, she has absolutely flawless skin and always perfectly coiffed strands. What do you think? Tell us your guess in the comments below.