Posted by Total Beauty 04/05/12 at 11:28AM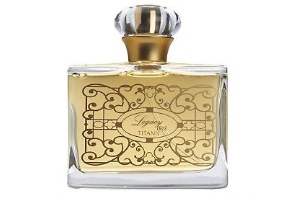 In case you hadn't heard, April 14th will mark the 100th anniversary of the sinking of the "Unsinkable" Titanic. Not exactly a joyous occasion but one that's being feted nonetheless; Twentieth Century Fox will release "Titanic 3D" on April 4th, there've been a slew of cool new photos taken at the site of the wreckage and, to get in on (cash in on) the all the fun, QVC has launched a commemorative fragrance -- although, in fairness, it's not as creepy as it sounds and is, in fact, kind of sweet. Here's the deal ...
One of the 2228 passengers who set sail from Southampton on that fateful cruise was a guy from Manchester named Adolphe Saafeld. Turns out that Mr. Saafeld was a perfumier who was making the crossing to debut a new fragrance in America. When the ship struck the iceberg, he was lucky to get aboard a life raft and survive but the 65 vials of essences and oils he'd brought along weren't as fortunate.
Unbelievably, 62 of those vials have been recovered from the ocean floor and QVS has fashioned a fragrance, Legacy 1912 Titanica, using similar scents that "surround you with the fragrance of delicate lemon and nerolis, alongside blushing rose and warm, sheer amber."
Rather touching (in a commercially-motivated way) isn't it? The eau de parfum is available for advance order on the shopping channel's website for $69 and will be shipped out in July -- hopefully not by ocean liner.