Posted by Total Beauty 02/17/12 at 12:00PM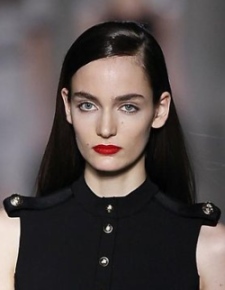 Redken Creative Consultant Guido created a sleek, minimalist hairstyle for Victoria Beckham's Fall/Winter 2012 show. Each model was given a blunt, uniform cut that was ultra-modern. "The hair in New York always reflects what I like to call American minimalism -- the styles, like this one, aren't often complicated, but they reflect a simple beauty that I think works wonderfully here," says Guido.
Here's how to get this simple yet sexy look:
1. Start with hair trimmed very straight with a blunt finish. Apply
Redken Satinwear 02 Ultimate Blow-Dry Lotion
, $16.50 to hair for heat protection and softness, then blow dry.
2. Create a deep side part and flat iron hair until perfectly straight.
3. Add a generous amount of
Redken Shine Flash 02 Glistening Mist
, $17, for a glossy finish and tuck hair behind the ears.
4. Use a dollop of
Redken Hardwear 16 Super-Strong Sculpting Gel
, $14.99 to slick down the front of the hair for an extra wet finish and added texture.