Posted by Total Beauty 10/03/12 at 10:48AM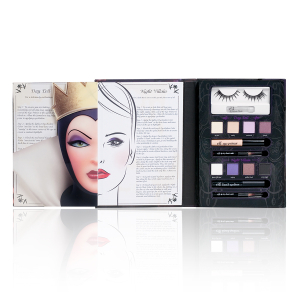 It's October, and that means one thing: It's time to seriously start thinking about your Halloween costume. Enough with the "should I be Suri Cruise or Vampire Pam" waffling. Decision time is now.
Fortunately, elf Cosmetics is here to solve the quandary for you. They've just launched The Villain Collection, three kits inspired by Disney's most famous scary ladies: Cruella De Vil, the Evil Queen, and Maleficent. And we're not talking about a palette with a few measly eyeshadows -- these kits have everything you need to create the sinister looks. You get instructions for two looks (day and night), eye primer, eight shadow shades, two lip and cheek pencils, liquid eyeliner, and -- our favorite part -- a set of false lashes specifically chosen to match the character.
The collection is available at Walgreens for $9.99 each. (Yes, that's the correct price.) Now, all you need is a Dalmatian puppy, apple, or pointy headpiece respectively -- so much easier than trying to track down an Eric Northman lookalike.