Posted by Cinya Burton 12/07/12 at 10:00AM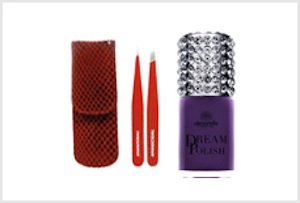 Sure, bath sets and candles make for pretty gifts -- but they're also pretty safe (read: predictable and bo-ring). So we have another idea for a sure-to-please present that beauty lovers haven't received every year since they were 16.

Try combining this Tweezerman Red Glitter Petite Tweeze Set, $30 with this Alessandro Dream Polish in Purple Pleasure, $25. It's the perfect duo, because everyone needs a good pair of tweezers -- and this set has both slant and point tweezers in a cool red snakeskin case. And who doesn't love nail polish? Especially one in a rich wintery shade that's made with real diamond powder?

This pair is a perfect fit for all those impossible-to-buy-for friends on your list, and to make it even easier for you, you can just click here to buy it. You can thank us later.