Posted by Total Beauty 10/12/12 at 03:36PM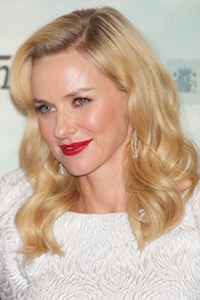 While I'm all about new beauty trends, I still get majorly excited about a flawless example of Old Hollywood glamour. Case in point: Naomi Watts. This week the actress stepped out with retro waves and a classic red pout. The timeless look was especially refreshing in the sea of top knots and purple lipstick currently ruling the red carpet.
If you want to take a break from the fall trends and opt for a similar look, I recommend swiping on
Mac Cosmetic Lipstick in Charmed I'm Sure
, $16.50. The classic red tint is part of the brand's new Marilyn Monroe collection, and who modeled the statement lip better than the original blonde bombshell herself?