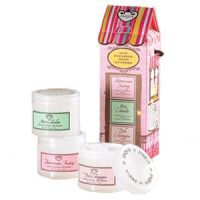 Jaqua Body Butter Trio
As low as
great way to find your scent

This was a great buy for me because the one I thought I would love (mint chocolate) turned out to be my least favorite. So instead of wasting my money on a big container I got to try all three. I knew I would not like the Pink Champagne and I was right, but i bought it knowing I would give it to my mom, which she loves and buys it in bulk where ever she can find it. I fell in love with the butter ...read morefrosting one. I can not describe the scent. I love food sells and my mother loves floral so if you like food Butter frosting is for you. Sadly the mint Chocolate was a miss, at first it smelled great, but a few seconds after I put it on I would smell that cheep plastic scent. Anyway these are also some of the best lotions out there. I can't believe these smell good and moisturize as well as they do. They sink into your skin and leave it so soft it feels like your skin was dipped in silicon (trust me it's a good thing). WOuld make a great gift!

Sinfully good

I absolutely love this body butter. Even though it's very thick, it rubs in very well. It immediately helps to moisturize my very dry skin & continues to work even after washing my hands. The smell is heaven, though the buttercreme may make you crave a piece of cake.

Back
to top