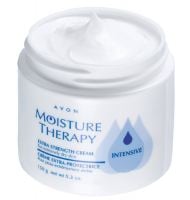 Great stuff!!!

This is a good moisturizer that works, especially in the winter time.

The Best!!

I bought this by accident. And "by accident" I mean because it was on a crazy awesome sale and I have a problem with shopping for things I don't need. Anyway, since I 'accidentally' bought it, I figured I needed to actually use it. At first, I wasn't super impressed, because it soaks in pretty quickly, which usually means it won't be nearly strong enough for me mega dry legs. I put it on before be...read mored and woke up the next morning and was astounded!! Usually, I wake up with skin so dry its itchy. That's just the joys of being me. However, when I woke up the first morning after trying this, I wasn't itchy at all. In fact, my skin still felt pretty good! I have been using it regularly ever since. I put it on before bed and after my morning shower and there is a noticeable difference in my skin. I won't claim that it lasts 24 hours, or that it will heal your skin. If I forget to put it on, I am reminded when my legs start to itch like crazy. But, if you apply it regularly it will pretty much last you all day. The texture is definitely more cream than lotion, if you put some on your finger and hold it upside down, it won't drip. However, it soaks in fast and doesn't leave any residue. It has basically no scent beyond a subtle 'lotion' smell. Lots of heavy duty moisturizing lotions (even unscented) I have to wash my hands after applying to my legs because I can't stand the smell, but this one I don't even notice. I will warn you, you will use that pot of cream up way faster than you think!! Its only been a week or so and I'm buying more. This time I opted for the family size bottle with the pump. Luckily Avon stuff seems to go on great sales constantly, so I just stock up whenever my items are on sale. Even not on sale, the price is comparable to what you'd pay for a drugstore brand. Bottom Line: I think its spectacular, even for super dry skin. Its not thick or greasy, so people with minimally dry skin will enjoy it too. Buy in bulk, you'll need it!

Answer to Dry Skin

This is a wonderful body cream that can be used on hands, feet, and the rest of your body. If you have dry skin and nothing seems to help, try this very affordable cream. It has a nice scent and sinks into your skin very nicely. You'll stay hydrated all day.

Back
to top