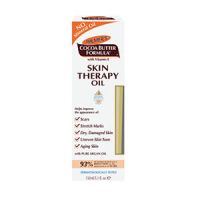 Great product.

Great product, great smell, great price.

Great for dry skin!

During dry winter months I have been switching Johnson's Baby Oil and Burt's Bees Apricot Baby Oil back and forth for years. Now I have one more product to add to my routine. First of all I love the scent of this Palmer's oil. It is sweet, but not too sweet. Secondly, it absorbs into my skin very quick as if my skin is very thirsty for this oil. Yes, this is oil, but it does not leave my skin stic...read moreky or greasy. My elbows and heels, especially, feel nice and smooth after using this. It says that it will reduce stretchmarks and help to even skin tone, but I don't see a huge difference yet. But I purchased this to hydrate my skin anyway. BTW, I did/do not use it for my face. I think this oil is lighter, thinner than Johnson's baby oil gel. The bottle and the application can be a bit messy job since it is a bit watery for moisturizing body oil. Regardless, I love how this stuff makes my body skin feel.

I use this every night!

When I hit 30, my skin started to protest. I found some of this in my grandmas cabinet. WHERE HAVE YOU BEEN ALL MY LIFE!!?!?! I have no children however I have "growth" stretch marks. They have faded. My skin looks like my 20's again. This stuff ROCKS in the winter too. Dry skin? Nope.

Back
to top