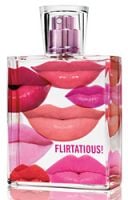 Mmmmmm!!

This fragrance smells so nice. It's sweet and fruity, but not sickeningly so. It kind of reminds me of an Escada fragrance, Sunset Heat. Obviously they're not the same, but it's no wonder I love this fragrance. I love Escada fragrances! This is a light fragrance that isn't overpowering. I just feel happy whenever I wear this. It's so mood-enhancing. It's a light and happy fragrance!

I LOVE THIS PERFUME

This was a really great buy! I've gotten so many compliments and can't stop smelling myself! This was a bit pricey but only because it contains only the finest ingredients. It has honeysuckle, wild berry, and vanilla which is an amazing mic! I would recommend this anyday.

Flirt! Flirtatious! Is Flirty and Sweet

ilove this scent, its light and fruity perfect for a night out with friends or on date night. Goes on light and sweet and stays on for hours. Perfect for people who like sweet fruity scents and like to get as much value as possible for their money. Only need 2-3 small sprays to last all day. I have has this for 6 months and have used less that half a bottle.

Back
to top