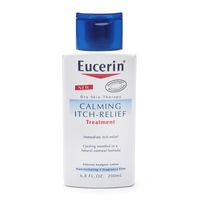 Doesn't last long

It does stop the itching and calm the skin. This though does not last long, the same symptoms return quickly.

Doesn't stop the itch

Waste of money. I took a medication that was making my skin itch so bad I scratched my skin until it bled. I bought Eucerin because I associate the product name with something medical (don't ask me why). Any how, I literally used the whole bottle all over my body and then had to scratch through cream. I went back to the CVS and bought Benadryl itch spray, CVS itch spray, Caladryl Clear lotion,...read more the Afterbite Itch Eraser, and pink Caladryl (I wanted to make sure I bought SOMETHING that worked!). The best product turned out to be the Benadryl spray. Maybe it's just me, but I find sprays or rollons (like the AfterBite) always work better than creams, go on quicker, work faster, work longer, and don't make as much of a mess (or stain my clothes). I am going to start taking my iPad to the store with me so I can log in to Totalbeauty and read reviews before I buy things. I really believe people are being honest and don't have hidden agendas.

Not that great

I am always looking for products to help my itchy skin. Eucerin Skin Calming Itch-Relief Treatment did not help. I really thought that it might help. I liked the price, and some friends said that this product does help. I guess it might for some people, but not for me.

Back
to top