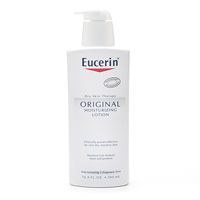 Love it!

The texture is rich, not runny. I like to apply this lotion after shower. It absorbs into skin quickly, and leaves my heels and elbows soft and smooth. Great lotion for dry and itchy skin. Since it is fragranc-free, men can use this lotion without smelling like a grandma. It costs a few bucks more than some of my other body lotions, but this one is a keeper and definitely worth the price tag.

Truly fragrance free without that nasty fragrance free smell

No fragrance whatsoever!! This is great for all skin especially the dry chapped red itchy sensitive skin at a great price!

Very heavy!

This is a very heavy lotion that works well for extremely dry and flakey skin. It's so heavy that it takes a very long time (2-3 hours) to completely soak into your skin. This would be the type of lotion I'd recommend you'd wear before you go to bed so it has the entire night to soak into your skin. I'd use a different lotion for mornings because you'd end up waiting forever for it to dry so you c...read morean get dressed. Fantastic lotion though! I'm a nurse with extremely dry hands from washing, so this lotion one of my favorites. Also great for dry soles too. I sometimes apply this to the dry parts on the bottoms of my feet and slip on a pair of socks before bed. When I wake up, my feet are incredibly soft. Try it!

Back
to top