The VIP (Very Impressive Product) Pick of the Week #48

Posted 06/08/12 at 07:45AM by Audrey Fine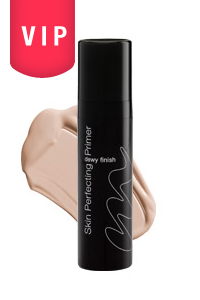 The Product
:
Murad Hybrids Skin Perfecting Primer Dewy Finish
The Price
: $35
The Company Spiel
: "Oil-free primer ignites a radiant glow, powered by light-enhancing minerals. Restore smoothness while a universal shade provides the perfect skin tone match. Minimize the appearance of pores."
The Real Deal
: When I read the words: "universal shade" or "perfect skin tone match" I get excited. I'm not much of a foundation girl, so the prospect of having something simple that eliminates all the guesswork gets me all sorts of jazzed. (I know, I need to get out more.) So imagine my excitement when I was looking for a primer and came across those precise words! Bonus: they were used in conjunction with a Murad product. I like Dr. Murad -- I've interviewed him a few times, and I admire that he was one of the true skin care pioneers way back when. I did some research, read some reviews, and decided to try this product. Judging by the fact that it's featured as this week's VIP pick, you can probably guess the rest.
The Upshot
: What I love about this primer most is that it serves two purposes for my skin: it primes without sinking into any lines or imperfections
and
imparts a natural-looking rosy, dewy glow. Essentially, it gives me just enough coverage that I don't need to apply a tinted moisturizer, BB cream, or ANYTHING else. It's low key and pretty, and I just love the time-saving element of only having to do one facial step!
Also, try
: If you're looking for a product that will keep your makeup-free skin looking as great as possible, try this
other VIP pick
. It's super, too.

Our Expert Guides