The Trend My Short Hair and I are Coveting -- High Buns

Posted 05/11/11 at 02:09PM by Audrey Fine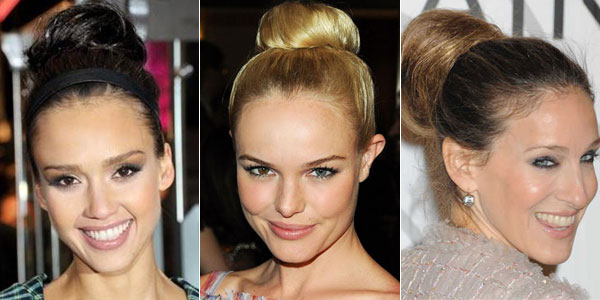 We probably have Natalie Portman and her Black Swaniness to thank for the high bun's super-popularity this spring, but make no mistake, you do not need to be a ballerina to pull off this chic (but easy) look. It's chunky and sits on the top of your head and looks good on just about anyone with long enough hair to pull it off. (Read: not me since I'm just 5 months in to growing out a super-short pixie.)
Recently lots of stars have been snapped with their hair piled high up on top of their heads. And why not? It's very flattering and there's no worrying about deflating volume or errant gusts of wind on the red carpet -- or real life.
Want to give it a whirl? (The look works anywhere from office to garden party to dinner with the in-laws.) Here's the super-simple how-to:
Step 1
: Prep and prime your dry hair with a volumizing mousse (try
Herbal Essences Body Envy Volumizing Mousse
, $3) to give it body and texture.
Step 2
: To get even more oomph, tease your hair, but make sure to do it properly -- when done incorrectly, teasing can be devastating to your hair. Take hold of a section of hair, hold it up firmly with one hand and with a brush in the other hand, lightly brush towards your scalp.
Step 3
: Pull your hair into a ponytail on the
top
of your head.
Step 4
: Twist the hair and wrap it around the base -- but don't pull too tightly. Remember, you're going for a big, poufy Emporio Armani on the runway bun, not a tight librarian in a tacky cardigan one. If you need some extra oomph, you can always use a bun shaper like the
Fusion Beauty Hair Stylers Black Mesh Chignon
,$3.69. (Sounds lame but those donut-looking things really do work wonders.)
If you're not feeling the chunky high bun, you can always try the
messy undone
one that's a favorite of our Total Look host, Rebekah George.

Our Expert Guides