Why Shaving Your Legs Is Not Just a Summer Activity

Posted 11/03/11 at 01:12PM by Audrey Fine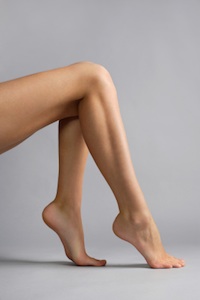 Raise your hand if you've raked a razor over your shins in, say, the last week. Don't be shy, I get it. I used to be a seasonal shaver -- I mean really, what's the point of having smooth, sleek legs if no one's going to see them, right? Wrong.
Just like wearing pretty lingerie gives you an inner, secret confidence (even if it's for your eyes only), keeping your legs swimsuit ready even when they're covered by corduroy imparts a certain boost of "I feel good about myself," which a girl can never get too much of. (Plus, your legs feel oh so much better against the sheets at night!) And, of course, if you
have
a significant other, they'll surely appreciate the effort, too.
Now, to make sure you get the biggest bang for your efforts, let's walk through a remedial course in
how
to get the best shave:
Step 1:
Exfoliate. Sloughing off those dead skin cells gives your razor better access to the hair it's trying to remove. But, be sure to do it the day
before
you shave, or you may end up with icky razor bumps.
Step 2:
Use shaving cream. Seems like a no-brainer, but so many people substitute soap or conditioner -- and those clog the razor and prevent you from getting the closest shave possible. (I like
Gillette Satin Care Shave Gel Skin Smoothing with Vitamin E and Shea Butter
, $3.99. It moisturizes and smells great, too.)
Step 3:
Break out a new blade. Nothing ruins a good shave more than an old, dull blade, so replace it after every three to four uses. And, stay away from the cheapie disposable ones. I like
Gillette Venus Embrace
, $11.99, which has five blades for a closer, more uniform shave. Even better, the flexible head conforms to the curves of your legs (especially around the tricky ankle and knee areas). Not cost-prohibitive and definitely money well spent.
Step 4:
Moisturize. Make sure to rinse off all the remaining shaving cream and pat your legs dry before applying a good, emollient moisturizer. (I like
Olay Quench Body Lotion
, $7.99. It keeps my skin super soft and soaks right in without feeling greasy -- love that.)
And, if you get razor burn despite taking these carefully orchestrated steps, apply a cortisone cream to keep inflammation to a minimum. (Try
Cortizone 10 Anti-Itch Ointment
, $9.99.)
See? Not so tough to pull off, just make it part of your routine. But listen, if you want to lay off the sunless tanner until bikinis are back, you have my blessing …

Our Expert Guides