My Recent (Rare) Beauty Product Splurges

Posted 03/21/11 at 08:44AM by Rebekah George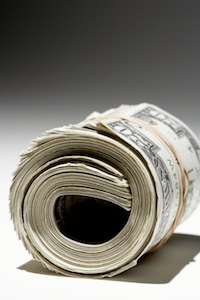 When it comes to my beauty purchases, I usually don't break the bank. I mean, why go to Bergdorf's when I can get great stuff at the drugstore and still have money left for shoes? But this spring, I decided to treat myself to a few "investment pieces." And, although buying these three big-ticket items will mean that I'll have to wear last year's wedges, they're definitely worth the sacrifice.
Splurge No. 1
: I love my
Olay Professional Pro-X Hydra Firming Cream
, $42, a night cream, but sometimes I want to give it a little boost, especially with spring coming up. I want my skin to be in extra great shape for a few events I have on my calendar. That's why I'm throwing down a big chunk of change on
La Prairie Cellular Power Infusion
, $475, which consists of four bottles of elixir that you use intermittently with your
existing
skin care routine (I did save
some
cash thanks to this fact). The elixirs help rejuvenate sluggish skin cells (and lately mine have been snoring) in 28-40 days, depending on your damage. While it does seem like a lot of dough, I did the math and figured out that it's much cheaper than paying big bucks to visit my derm for regular peels.
Splurge No. 2
: Even with the help of my night creams, my skin's not perfect, that's why I've had my eye on the
Temptu Perfect Complexion Kit
, $280, for quite some time now. I mean, if an airbrush foundation can't give you a flawless, smooth finish, I don't know what can. When I tried this in the store and saw the results, I was amazed. You really get a smooth finish and it doesn't look like you're wearing foundation. Plus, it's so easy to use -- you literally just aim and spray. And, the biggest bonus is that you don't need to wear a lot of makeup with this foundation because your skin literally looks flawless.
Splurge No. 3
: The one thing I covet almost as much as flawless skin ... tools. And no, I'm not talking hammers and screwdrivers here. I'm talking hair tools. I like to have different tools on hand to help me master various curly styles -- smaller barrels for smaller curls, larger barrels for larger curls -- you get the idea. That's why the
Amika Triple-Barrel Pro Curler Set
, $175 is a must -- at least that's how I'm justifying it to myself. This curling iron comes with three interchangeable barrels so you can create various styles with just one iron -- great space saver for tiny bathrooms like mine.
What products do you love to splurge on? My fellow My Beauty Life blogger, Audrey,
can't live without these bank-breaking products
.

Our Expert Guides