READER Q&A: "What hair color shades are in style this season?"

Posted 10/25/11 at 12:09PM by Audrey Fine
It's Monday and that means that it's reader question day here at My Beauty Life. Today's question is from Monique in Montreal, Canada. She asks:
I'm looking to change my hair color this fall. What are the shades that are really in style this season?
For Monique and the rest of you who're wondering about hair color trends, our resident hair expert Michael Duenas says, "bright colors are in!"
Now, while we're not necessarily recommending you pull a Katy Perry and go completely pink, a few strategically placed pops of color are very in at the moment. Think Lauren Conrad and Kate Bosworth.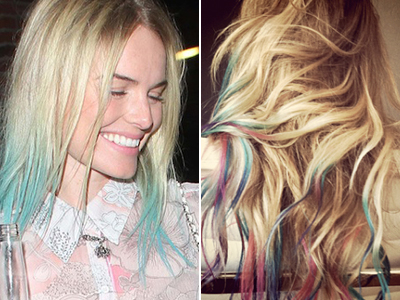 "Look on the runways and in magazines, you will see a flair of color here and there," says Duenas. "It does not have to be your entire head, but a small panel or smudged ends are always nice."
Prefer a more subdued, natural look? Duenas says, "bright chocolates, auburns, and deep reds are huge hits this fall, too."
Will you change your hair color this season? Please post a picture of yourself in our
community
section or on our
Facebook page
. We'd love to see it!

Our Expert Guides