My Three Picks for Stocking Stuffer Scents

Posted 12/20/11 at 10:26AM by Rebekah George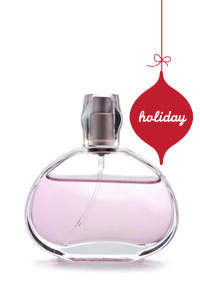 Waking up on Christmas morning and grabbing your stocking from the mantle isn't just exciting for the Polly Pocket set. I
still
can't wait to see what Santa selected for lil' ol' me.
And, since I'm sure he's slammin' busy right about now, I thought I'd pitch in my expertise and offer up some stocking-worthy scent suggestions for all the good little girls on his list.
Lush Cocktail Solid Perfume
, $14 Think French 1930's perfumeries and that's what you'll get with this solid fragrance. It's packed with floral essential oils like ylang ylang, rose, and jasmine (yum!). Simply lovely for day or evening.
Stella McCartney Solid Perfume Necklace
, $36 This is a two-fer: You get a Stella-designed necklace to add panache to any outfit
and
a fresh rose/sophisticated amber scent to entice with. Plus, since it's around your neck you can add more anytime you'd like.
Philosophy Amazing Grace Fragrance Duo
, $30 I'm a huge fan of Philosophy Amazing Grace Bath & Shower Gel and am beyond happy that the same scent is available in a rollerball collection. It comes as a set so you can be fully stocked (or give one to a friend.) Plus, the rollerball packaging eliminates the risk of spills. Brilliant.
If you're looking for more than simply stuffers, you might want to check out my co-worker Audrey's
life as defined by four fragrances
.

Our Expert Guides