My Mascara Applying Tips

Posted 08/02/11 at 09:45PM by Rebekah George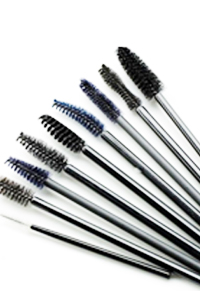 I never leave home without mascara. I won't even to the gym, the store, or anywhere else without it. There's just something about mascara that just makes you look alive.
Through my years as a beauty expert, I've mastered a few tricks to help my lashes look their best. It's actually not just about the mascara, but also how you apply it. Try these tips:
Clean off your wand: Prevent clumping by wiping your wand with a tissue to get off any excess. Don't wipe it on the tube -- that will just goop up the formula.
Apply light coats: Just like with nail polish, you get your best result when you apply a few light coats instead of one or two thick ones.
Concentrate on the roots: Think about when you're getting a blowout, you add volume to the root. Same story with mascara. Wiggle the wand at the root for a few extra seconds to create volume and lift and the root. Then run it through the rest of your lashes.
Looking for new ones to try out? Here are three that I'm liking at the moment ... Try these three new mascaras when you give these tips a whirl:
CoverGirl NaturalLuxe Mouse Mascara
, $5.29, made with beeswax to create extra volume.
Benefit Cosmetics They're Real Mascara
, $22, a glossy, jet-black mascara that helps lashes stand out.
Fresh Magic Wands Mini Duo Mascara
, $10, a smaller set for when you're on the go.
Wondering what other products we beauty types can't live without? (And which we deem splurge-worthy?) Check out some of my
recent faves
.

Our Expert Guides