Quick, Last Minute Hairstyle Idea: Check Out The Celeb Look I Chose To Try in Lieu of My Typical Low Ponytail

Posted 08/04/10 at 05:13PM by Total Beauty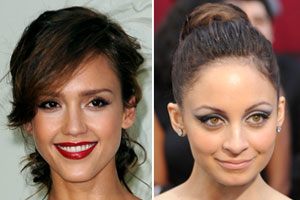 Yesterday my husband called on his way home from work to tell me that our dinner date with his boss had been moved up an hour. An HOUR! Which meant I had to be ready in less time than it takes to boil water.
Luckily the babysitter had arrived so I could focus on getting dressed and making myself look presentable (the sweats and scrunchie combo clearly wouldn't cut it). My major dilemma -- I didn't have time to wash my hair
and
style it. The only solution was to pull my hair back ... again.
And since I didn't want to wear my go-to (blah) low ponytail, I started thinking about a few hairstyles I had seen on celebrities recently. Of course they have stylists to make them look fabulous, but I'm not completely hairstyling challenged, so I figured I could give one of the easier looks I saw a try.
I grabbed the magazine I had seen the styles in and after madly flipping through it, I found them -- one was on Jessica Alba and the other on Nicole Richie. They both looked fairly easy to pull off -- even with dirty hair, but I decided to go for the high ballerina bun that Nicole was wearing because it had a sleek finish. I wasn't sure I could pull of the whole messy-in-a-good-way Jessica style.
Here's how I recreated the look:
Step 1: I brushed out my hair to get it smooth and calm frizz. Then I applied a little bit of
Lea Journo Mirroir Glossing Cream, $28
through my hair to give it some hold and add shine.
Step 2: I smoothed my hair into a high ponytail and secured it with an elastic. Then I twisted the tail into a tight bun and pinned it into place with four bobby pins.
Step 3: I sprayed the look into place with
Sebastian Shaper Plus Hair Spray, $14.99
and patted down the frizzies in the front with my fingertips.
All in all the hairstyle took five minutes to do. I felt so confident all through dinner thanks to my sleek quickie style. What do you think? Was the high bun a good move or would you have done the messy ponytail?

Our Expert Guides