How I'm Wearing Fall's Makeup Trends

Posted 09/08/11 at 06:03AM by Charli Schuler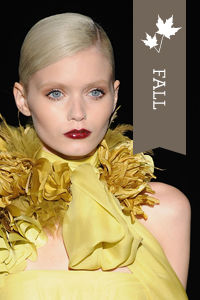 Fall catalogs have been piling up on my coffee table for a couple of weeks now, which means that not only is a new season upon us, but that I'll be broke before I know it. The good news is that while I have a weakness for over-spending to build my wardrobe, I won't have to drop much cash on makeup this season. Why? Returning trends! If you already have shimmering shadows, black eyeliner and blue nail polish in your arsenal, you're almost fully stocked.
I'll admit that, at first glance, I was bored by some of the looks sashaying down the runway this season (bold brows, blood red lips ... familiar much?), but then I noticed plenty of fun, fresh spins on '70s-inspired eye makeup, "no-makeup" makeup, and other classics. What I like most was that with richer, more glamorous colors and textures, a lot of looks were still day-friendly -- even the notoriously sexy smoky eye.
So, while I take a break from dog-earing pages of my J. Crew catalog, let's check out the trends I think should make it (back) into your style this season, along with my favorite ways to recreate them at home.
SEE THE SLIDESHOW NOW ...

Our Expert Guides