Expert Q&A: How to Contend with Thinning Hair

Posted 09/02/11 at 01:49PM by Audrey Fine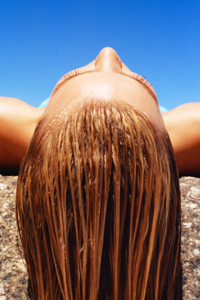 I'm going to let you in on a little secret. Men aren't the only ones who lose their hair. Sure, balding is more of an overtly male disease, but, according to the American Hair Loss Association, women comprise a whopping 40 percent of hair loss sufferers.
Thinning hair in women happens for a multitude of reasons -- from underactive thyroid, to iron deficiency, to over-styling or using too many harsh products.
The key to restoring your hair to its former full and fabulous glory is to first rule out any underlying medical condition by discussing the situation with your doctor. Once you've been given a clean bill of health, you can begin to concentrate on getting your hair back in shape.
To that end, we asked hairstylist and Nioxin specialist and educator, Jeramie Simpson of the Sagittarius Salon and Spa in Hagerstown, Md., to answer some of your most pressing hair loss related queries.
Here, gleaned last month from our
Facebook page
are your questions and Simpsons' responses ...
Q: "My hair is breaking off at the hairline. I'm 39, don't use any color or chemicals, and haven't been doing anything differently. What's up?" - Kerry L.
A:
Simpson says that, "Over time, the stress of styling, pulling the hair back, or even just environmental pollutants and the elements can take a toll on our hair. This breakage is a sign that the hair is not as strong and resilient to these things as it once was. Nioxin offers a hair/scalp care line that will strengthen the hair where it starts -- at your scalp." Simpson notes that, "by creating the healthiest scalp environment possible, we can stop hair breakage," and suggests that if you're interested in strengthening your hair to check out
Nioxin.com
to find what products will fit your needs and find a salon near you that carries them.
Q: "My hair has been thinning for the past four years. I've been to the doctor and it's nothing medical. Besides stress or hormone issues, what could be causing the loss?" - Cindy C.
A:
"There are so many different reasons for hair to thin, but they all have one thing in common -- they start at the scalp," says Simpson. "Cleansing away toxins and [product] buildup from the scalp, and replenishing the moisture balance with vitamins and botanicals, encourages your hair to grow as strong and healthy as possible. With stronger, healthier hair you will be less likely to experience breakage and excessive shedding."
Q: "I'm 51 and my hair is fine and thin. Are there any products you can suggest that will help to thicken it?" - Diana H.
A:
: "
Nioxin has four different three-part systems to choose from
depending on your needs," says Simpson. "Each three-part system cleanses, optimizes, and treats your scalp to create a healthy environment so that you can grow your thickest, healthiest hair and prevent further loss and breakage."
To get the most oomph out of your hair in its current state, Simpson recommends spraying
Nioxin Volumizing Reflectives Root Lifter
, $8, onto the hair before styling, being sure to "focus on the root area for maximum lift, using a round boar bristle brush to add shine and protect the hair." The lifter will "provide extra hold and support to the root while helping to maintain an optimal scalp environment." He then suggests "finishing with a little
Nioxin NioSpray Extra Hold and Power Hold
, $17, for humidity protection."
Q: "My mom is almost 60 and a diabetic. She is balding on top and wants to do something but doesn't know what will help. Please give me advice on what we can do to help this depressing problem."
- Kelly M.
A:
"Your mother sounds likes a great candidate for the Nioxin three-part system," says Simpson. "Different health issues, along with their treatments, can sometimes affect our hair. Nioxin was developed for thinning hair by addressing the needs of the scalp. By cleansing the scalp and providing nourishment and moisture the scalp needs, Nioxin creates a healthy environment for the hair to grow."
Simpson says Kelly's mother should "start out in the salon with Nioxin's scalp renew service. This is a facial for the scalp that will exfoliate and cleanse away any buildup on the scalp and help to unclog hair follicles. It is also a very enjoyable service and she will leave the salon feeling great. Follow that up with the appropriate
Nioxin three part system
as well as the
Nioxin Scalp Renew Density Restoration Treatment
, $30. The salon professional will be able to tell you what products you need based on your hair type. You can also visit
Nioxin.com
to find a salon near you."
Looking for more hair health advice?
Click here
.

Our Expert Guides