How I Copy Alexa Chung's Cat Eye (And More) [SLIDESHOW]

Posted 08/10/11 at 02:08PM by Charli Schuler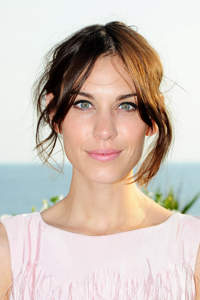 I often wonder if anyone in the U.S. knows who Alexa Chung is, but then I think, if you like reading fashion magazines and shopping, particularly at J.Crew's sister store, Madewell, you do.
Aside from being a former model and Vogue's "most stylish woman in the world," Alexa has been called a "phenomenon" by Vogue Editor in Chief Anna Wintour, "
the
modern girl ... beautiful and clever" by designer Karl Lagerfeld, and even the "new" Kate Moss. Here, she's perhaps best known for her work with
Madewell
and a brief stint on MTV's "It's On with Alexa Chung," and soon, she'll be on your TV as the host of Lifetime's "24-Hour Catwalk."
All that other stuff aside, what fascinates me most about her is her signature makeup look -- a simple yet elegant one that borrows from the '60s and really plays up her beautiful blue almond-shaped eyes. After researching tons of eyeliners and Alexa Chung makeup tips, and practicing a cat eye for months, I've finally figured out how to recreate it. Whether you're an Alexa fan or not, this is definitely a go-to look if you need to appear effortlessly glam within minutes.
SEE THE STEPS ...

Our Expert Guides