Hairstyle How-To: Recreate the Modern Twist Trend I'm Obsessing Over This Week

Posted 02/17/11 at 06:58PM by Kristen Giordani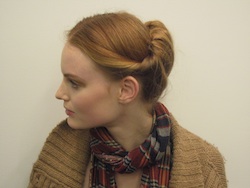 One of the prettiest hairstyles on the runway at New York Fashion Week this week was the new, modern take on the "twist." At the Jonathan Simkhai show, Shu Uemura Art of Hair's lead stylist Conrad Dornan called the look "hip downtown girl meets Frida Kahlo" and I just loved it. (I'm actually
wearing
my own hair in this very style as I type! See photographic evidence below.)
Lucky for you (and me) I was backstage and got these shots of the stylists in action creating the look. Here's the how-to if you want to try it at home...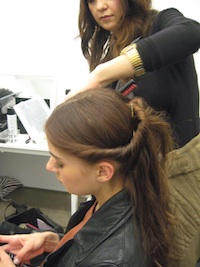 Step 1
: Prep wet hair with a volumizing mousse (Try
Shu Uemura Art of Hair Ample Angora Volumizing Light Foam
, $33 or
Herbal Essences Body Envy Volumizing Mousse
, $7.)
Step 2
: Blow dry hair using your fingers to rake in as much volume as possible
Step 3
: Part hair in the middle and separate it into four sections -- two in the front, two in the back.
Step 4
: Curl each section with a 1 inch barrel curling iron and secure each curl to the head with bobby pins for roughly three minutes. Note: I skipped this step because my hair has natural texture, but if yours is stick straight and fine, definitely curl it.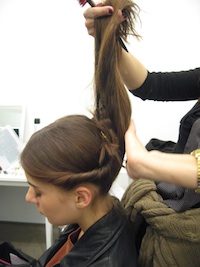 Step 5
: Take the pins out, softly brush out the curls, and twist both front pieces towards the back of your crown, securing with bobby pins.
Step 6
: Take the remaining hair in the back and fold and roll it into itself behind the two front twists. Pin like crazy until the twist feels secure.
Step 7
: Secure the look with a few spritzes of your favorite hair spray.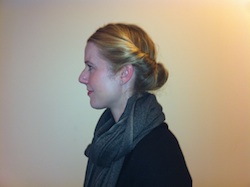 So? What do you think about my cute new style? Are you as excited as I was to try it? Or, if this look isn't your style, what about trying a
messy, undone bun
?

Our Expert Guides