EXPERT Q&A: Recreating Grammy (Hair) Glamour

Posted 02/17/12 at 03:05PM by Audrey Fine
With Hollywood award season in full swing, we've been treated to dozens of to-die-for celeb hairstyles. Most recently, the A-listers wowed us on the Grammy red carpet.
With everybody preaching how to "get this look" and "copy that style," when it came to answering reader questions about recreating several favorite Grammy hair styles, we decided to head straight to two pros who're known for dispensing no-nonsense, concise expert tips. Here, without further preamble, is how
Ginger Boyle
and
Dean Roybal
-- both from the fabulous Planet Salon in Beverly Hills -- recommend you proceed if you'd like to copy the following looks.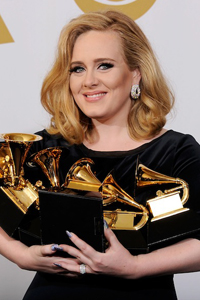 "I loved Adele's new blonde shade and, especially the voluminous shoulder-length curls she wore at the Grammys. What's the best way to copy that style?"
To achieve this look, ask your stylist for a shoulder length razor-cut bob. Combining a versatile length with a razor-cut and roller-set with
Wella's Natural Volume Styling Mouse
$13, will help you recreate this soft red carpet bounce.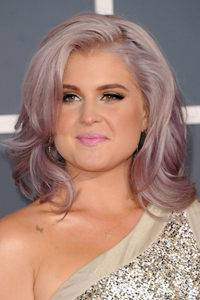 People either love or hate Kelly Osborne's violet-tinged gray-toned hair -- I happen to love it and want it!
To copy Kelly's purple blonde, a bleach and tone service with
Wella Blondor Lightening Cream and Powder in Soft Blonde
, $30, is your only way to go. To achieve various shades of high fashion lavender blonde; gloss the hair with
Wella Color Touch Special Mix
, $12, to add that creative edge.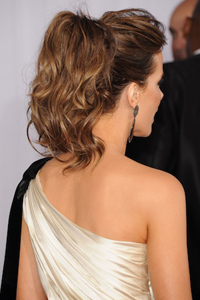 It's her default hairstyle, but I just loved Kate Beckinsale's pretty updo at the Grammys. How can I copy it at home? 


To copy Kate's darling 'do, on damp hair apply
Wella Professionals Flowing Form Smoothing Balm
, $12, and tousle dry while manipulating hair at scalp for extra volume. Once dry, randomly twist tendrils around a large barrel curling iron to create soft waves. Secure a high ponytail at the crown with a hairband and cover band with small piece of hair. To create volume that will flatter any face shape, use your fingers to loosen and pull hair up and forward, giving lift and texture.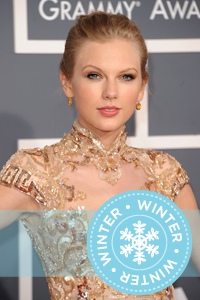 Taylor Swift wore her hair up (for once) at the Grammys but her usually yellow blonde tone seemed to have been toned down with some pretty caramel shades. Any ideas on how to copy the color? 


Mixing things up and changing your shade of blonde for an event can be lots of fun.
Wella Color Touch in Rich Brown Shades
$7.49, give an amazing range of champagne, honey, and caramel blondes that reflect high tonal value on highlighted hair.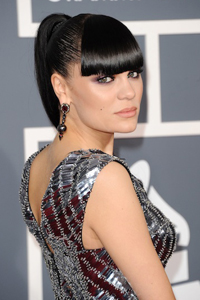 Jessie J.'s heavy bangs and ponytail on Grammy night really highlighted how shiny and glossy her black hair is. What's the best way to get such shine?


For a lustrous lacquer finish like Jessie's use
Wella Shape Shift Molding Gum
, $12.99, to secure and control a super tight ponytail. Blow dry fringe with a flat brush and use
Wella Care Mirror Polish Shine Serum
, $11, to achieve ultimate vinyl shine.


Our Expert Guides