Expert Q&A: Your Top Five Makeup Questions -- Answered

Posted 10/01/10 at 05:31PM by Total Beauty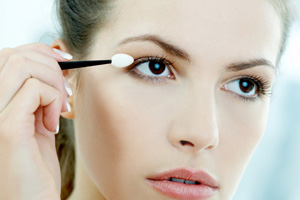 Makeup pro Landy Dean, artist at the Marie Robinson salon in New York City, sheds light on your need-to-know makeup questions:
I have long been under the assumption that makeup is a science -- one that should be taught alongside quantum or nuclear physics and trigonometry ... well, OK, maybe not, but it should be an alternative to woodshop. Why? The numerous techniques and tools of application, and the ability to correctly use colors and textures to best accentuate unique features, skin types and tones, sure sounds like science to me. The fact is, makeup can be difficult to master and if you're not a professional who actually
did
go to school to learn the craft, than knowing how to properly apply it can be baffling. That's why we asked you to tell us your burning makeup questions -- so we could go to a pro to have them answered. Here they are, so take notes.
Question 1:
"Give me a normal everyday makeup routine. What do I use and what can I skip?" -- Nkechi
Answer:
Keep it simple, urges Dean. Sweep a neutral shimmery beige or champagne eyeshadow (try
Vincent Longo Single Creme Powder Shadow in Honey Dream
, $24) on your lids only to give a little color and reflection. Curl your eye lashes and apply one to two coats of black mascara. Be sure skin is well moisturized and apply a sheer foundation or concealer in problem areas. Finish by powdering your skin lightly with a translucent powder.
Question 2:
"What are some foundations that prevent outbreaks? Every time I wear make up, I get pimples." -- Felicia
Answer:
Everyone reacts differently to various products, and typically it takes trial and error to find the right ones, says Dean. If you do get breakouts, try an oil-free foundation for sensitive skin. Try
CoverGirl Clean Liquid Makeup Sensitive Skin
, $8 or
Laura Mercier Oil-Free Foundation
, $40. "I believe good skin care before and after makeup can help with adverse reactions," says Dean.
Question 3:
"Dark Circles under the eye. What causes them and how do I cover them up?" --Linze
Answer:
Under eye darkness can be genetic, caused by lack of sleep or accentuated by the bone structure under your eyes, says Dean. The key is to choose the correct concealer. If the circles are bluish, choose a concealer with peach tones (try
Laura Mercier Secret Camouflage
, $28). If they're reddish, choose a yellow-toned concealer. Be sure to place the concealer only where the darkness is and not under the entire eye area or you risk creating a reverse raccoon effect, warns Dean. Enough sleep and hydration will help greatly as well, he adds.
Question 4:
"What kind of makeup [can I use] that won't let foundation/powder settle into fine lines?" -- Pattie
Answer:
Makeup applied to areas where the skin moves and creases, will settle in the lines to some degree, says Dean. A sheer and smooth application is your best defense though. To ensure this, moisturize your skin well, but not so much that the product will slide around even more. If you don't have discoloration or redness in the areas on your face that move and have creases, then don't apply any product there at all. Keep powder to a minimum in general, and consider skipping it altogether if you are using a creamier foundation that stays put on it's own, says Dean.
Question 5:
. "Every time I wear ... mascara, it ... always ends up on my upper eyelids and under my eyes too. How can I prevent both from happening?" -- Brynne
Answer:
First, try a mascara formula that is waterproof and or smudgeproof. Keep the application sheer and let it dry well after applying it. You may need to experiment with different brands and formulas as everyone's skin and chemistry will react differently to each product, says Dean. Also, using a small wand (as opposed to a thick, chubby one) and applying the mascara while concentrating on the roots and not so much on ends will also help, adds Dean. As a bonus this will define your eyes while keeping the ends natural and feathery-looking, he says.

Our Expert Guides