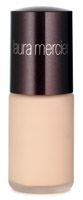 Wonderful

I am so pleased that I purchased this product. I am very fair skinned but have oiliness also. This product stays true to colour and lasts without any cakiness. When applied with a sponge the coverage is sheer which is a plus. Only one other makeup brand offers foundations light enough for my pale complexion, but I have to say that out of the two this one is my favourite. Thank you for a great product Laura Mercier!

Great Foundation

I have combination skin so I need products that can me with that issue. This foundation is a bit on the heavier side but it is still one of my favorite. Not only does it spreads well but it covers my problem area well. There is a little dewy look too. I just wish it wouldn't come off as easily when you sweat.

Good Foundation But A No-Go For Me!

For reference, I have combination-dry skin, NC 20-25, fair skin with yellow undertones. I'm on the fence about this foundation. I'm torn. I was definitely impressed when I first tried the foundation because I bought it. I was matched to Sunny Beige. I'm unsure about the staying power of this liquid foundation. Of the times I've worn it, I have found that in about 4 hours, the foundation starts to...read more disperse mainly on my nose and a little just on both sides of my nose. Everywhere else, coverage stays put. I always use the LM Oil-Free Foundation Primer under all my liquid foundations and I always have to set my foundation with LM Translucent Loose Powder. I would say that this is definitely a good quality foundation. It looks and feel very natural, it's got a good medium coverage, it's very blendable, and it's very buildable. I'm not sure if this formulation is for me. Maybe the formula plus the chemistry of my skin put together is a no-go. I would definitely recommend this foundation to others, but as I know the formula hasn't quite worked out for me, I probably wouldn't be repurchasing this liquid foundation again in the future.