Expert Q&A: "I have hooded eyelids. How should I do my eye makeup?"

Posted 06/28/12 at 12:20PM by Audrey Fine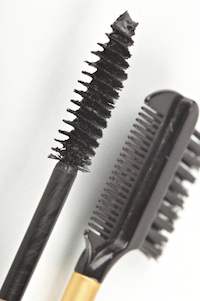 My Beauty Life's resident makeup pro,
Sage Maitri
stopped by recently to respond to a bunch of Facebook fan-submitted questions. Today, Sage addresses a query from reader Siriluck Qyattlaender who wrote, "I have hooded eyelids. How should I wear eye makeup?"
Here's what our pro recommends:
"The hooded lid can pose a few challenges, but once you're armed with these tips, it will open up a whole new world.
Because you are working with less lid space, you want to maximize the space you have by keeping your brows well groomed.
Make sure to contain your liner or darker shadows to the middle/outer edges of your eyelid and use an upward stroke at the outer edges. Keep the line close to the lashes, making sure that it starts thin and gradually thickens at the outer corners. Once you've created this little bit of definition along the lashline, sweep a lighter shade from crease to browbone.
For added lift, add a few individual lashes to the outer corners."
And, there you have them, larger-looking eyes in just a couple of steps.
Have a question for Sage or any of our pros? Submit it
here
.

Our Expert Guides