Expert Q&A: Your Top Five Hairstyle Questions -- Answered

Posted 09/03/10 at 01:20PM by Total Beauty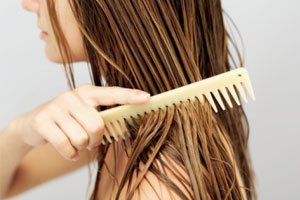 Hair pro Katie Seguin, stylist at the Marie Robinson salon in New York City, answers your pressing haircut and hair care questions ...
Admit it. You don't speak up when you're in your stylist's chair. You go in for a cut, quickly explain what you want, get a fresh new style (maybe dish about celeb gossip) and leave. Never do you wax poetic about your frizz issues or confess to your obsessive-compulsive use of hot tools, but it's OK. We do it to. Because who really wants to get a lecture or products pushed on them when they're enjoying the only 45 minutes of peace they'll have all week, right? Right. Well, thankfully, you can speak up here at Total Beauty without fear of being suckered into buying products you don't need. Though we can't say that these answers won't get a tad preachy ... but at least you've been warned.
Question 1:
How do you get rid of frizz if you already use Frizz Ease smoothing serum? -- April
Answer:
Seguin says to start your frizz-fighting routine in the shower by "making sure your hair is getting enough moisture." Do this by using a deeply hydrating shampoo and conditioner (try
Herbal Essences Hello Hydration Moisturizing Shampoo
and
Conditioner
, $6.99 each). She also says to avoid shampooing your hair too often, which "can cause your hair to dry out, therefore making it easier to get frizzy." If you aren't prone to getting oily strands, she recommends going a few days without shampooing, but "if that seems too disgusting to you, just run conditioner through your hair, skipping the shampoo."
Then
you can finish up your frizz-free style by "using your frizz-fighting product in your wet hair, and you can also use it in your dry hair," she says.
Question 2:
I need ideas to style my (VERY curly) hair. I usually just wear it down or put it in a ponytail ... [I] need ideas for hairstyles that would look good on hard-to-manage, prone-to-frizziness, EXTREMELY curly hair! --Norma
Answer:
"Instead of just pulling [your hair] into a ponytail, why not try a messy bun or updo," says Seguin. They're perfect looks for your texture. Rose Byrne just wore a style like this to the Emmys, see her
messy bun how-to
. "You can [also] achieve different looks by switching up your part or where the bun or ponytail is placed on the head (high or low)," adds Seguin.
Question 3:
What kind of hairstyles make hair look thicker and fuller? I have very thin, fine hair [and I keep] going back and forth [from] short hair to longer hair. --Corinne
Answer:
Seguin says "medium to short styles look best," because "if your hair is too long, it can make it look thin." She recommends trying a lob (long bob) a la Gwyneth Paltrow or Naomi Watts, see examples of their
bob haircuts
here. She also suggests you "play around with a long or a full bang," (think Kim Kardashian's new look) and warns that too many layers will also make hair look thinner, so opt for blunt cuts.
Question 4:
How [can I] achieve the perfect salon blow out at home? How do you hold the brush and the dryer at the same time! -- Katherine R
Answer:
First, Seguin says, "use the nozzle on the end of your blow dryer -- [it] helps seal the cuticle, giving [hair] a smoother appearance." Next, she recommends roughly drying your hair until it's about 80 percent dry (without a brush). Then "section your hair starting with the front, pulling the back out of the way," she says. Blow drying hair in smaller sections will make it easier for you to control your brush and the dryer at the same time. When you finish the front, "start the back, taking it in sections, hold your brush however it feels comfortable. It will take some practice to get a salon-looking blow out, but the more you try, the easier it will get," urges Seguin.
Question 5:
I used to have such healthy hair, but since moving to Southern California I have to wash it every day because it is so hot here. I also flat iron or curl it five days a week ... It's become very dry and dull, and split ends are popping up more and more (time for a trim!). But I just need something that can help with the dryness, dullness and something that won't weigh my fine hair down. Any suggestions? -- Katherine P
Answer:
"STOP SHAMPOOING so often," exclaims Seguin. "It dries your hair out, and just because it is hot, doesn't mean that your hair is dirty," she adds. She further explains that you can get your hair wet without shampooing it. She recommends running conditioner through your strands while in the shower and cutting back on the days you actually wash your hair. She also suggests that you get a haircut soon to take off your "dead ends" and "if you're using a flat iron or curling iron that often, just make sure you are using a heat protecting product," she says.

Our Expert Guides