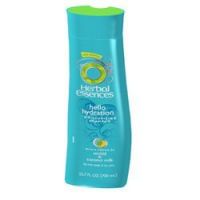 Editor's Rating & Review
If you can get past the silly directives on the back ("Repeat after me: I'm so quenched"), this moisturizing shampoo will become your new standby. It's not the most hydrating on the market (that title belongs to the Infusium line), but it'll get your hair clean, and not dry or tangly. The flowery, coconut scent is sweet, though it's not the classic Herbal Essences smell of the past, so nostalgic users might feel jilted.
Reviewed by Kristen on 09/21/2007

How we review products
I really wanted to like this

The smell is AWESOME. I can't say enough about how much I love the coconut smell, and it really lasts. Sadly, it didn't do very much in the way of hydrating my superdry hair. I ended up just using it as a body wash.

Smells Delicious

Herbal Essences has always been my favorite shampoo in terms of smell. I have a tried a variety of shampoos, and Hello Hydration has been one of the top moisturizing shampoos as well. I even got my boyfriend to use this shampoo and he absolutely loves it too.

No Hydration............

My family has gone through every formula offered by Herbal Essences. We run into the same problem every time...build up. The first 2 or 3 times the shampoos and conditioners worked great and then they starting building up and giving all 4 of us (2 adults, 2 teenagers) oily roots, flakes, and frizzy ends. I know a lot of people love Herbal Essences but we don't anymore based on experience.

Back
to top