9 Nail Trends I'm Trying This Summer

Posted 06/21/12 at 11:56AM by Virginia Pelley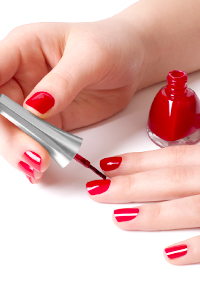 Attention, creative types, and beauty daredevils: This season is all about you and your nails. Can't decide which Technicolor bright you want? Pick a different color for every finger. Want tiny zebra-striped monkeys on each tip? Go for it. The sky's the limit when it comes to nail art.
Take it from me, someone whose nails are typically Chanel Vamp-ed out, you
can
embrace matte sky blue, glittery green, and bright opaque lavender polishes -- even if you're old enough to buy beer. Women of all ages are going for a little nail whimsy -- plus, if you're skittish about letting any of that neon makeup get anywhere near your face, a bright manicure is a much less traumatic way to stay on trend.
For other ways to be comfortably trendy this season, I spoke to several top manicurists who shared the following new nail styles -- plus tips on how to pull them off
and
make them last.
See the summer's must-have nail styles now.

Our Expert Guides