5 Eye-Catching Eyelash Looks to Try

Posted 04/10/12 at 08:08AM by Audrey Fine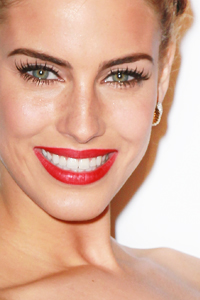 I hereby decree that the power of long, notice-me lashes is something everyone should be granted. I say this because I have thin, pale, pathetic excuses for eyelashes and I really, really wish I could afford extensions. What fun it would be to have long, thick, bat-able, come-hither lashes. I'd flutter my eyes all day and have guys fawning all over me, then I'd meet Mr. Right and we'd jet off to Fiji on his private plane and ...
Sorry, my imagination got the best of me for a minute. Now, where was I? Oh, the fact that I'm too broke for extensions and that it's a big bummer. But, the good news for me -- and everyone else who can't shell out big wads o' cash for perma-fake lashes -- is that there are some great falsies and daring mascaras that are actually affordable.
So, what do you say we try some on for size? For inspiration, here are my favorite extreme runway and red carpet looks, along with a few celebrity makeup artists' tips on how to make them more wearable. Bat-ter up!
See 5 daring lash looks now.

Our Expert Guides