4 Double-Duty Beauty Products That Make My Day

Posted 04/20/11 at 03:44PM by Audrey Fine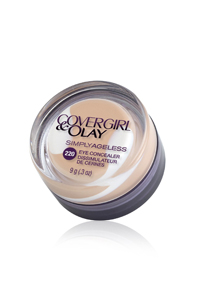 They say that necessity is the mother of invention and I'd be willing to wager that whomever invented my four favorite double-duty beauty products is a mother too. Moms not only need eight hands, they need a leg (or two) up, and corner-cutting advantages wherever they can get 'em.
That's one of the reasons why each of these items is so super. Yes, I'm a mom and, yes, I need to wring out every bonus minute that I can, but these are equal opportunity helpers that every (busy) one from over-scheduled career gals to over-wrought students can benefit from.
Without further ado, let's meet these rock stars.
No. 1
:
CoverGirl & Olay Simply Ageless Concealer
, $7.99. Take the skin gurus of Olay and combine them with CoverGirl's makeup maestros and you get this too-great-for-words concealer, which is not only affordable and easy to apply but works great to camouflage redness
and
boosts collagen production while it's at it.
No. 2
:
Bebe Duette Luxe Lips Framboise & Hand Creme 2-Pack
, $40.50. This is serious genius. J'adore. An awesome, emollient, almond/coconut laden hand cream with, get this, a
lip balm
in the cap. Seriously? Talk about a wonderful creation. And, it comes in both tinted (my personal fave) and plain balm so whatever you're into is right there in your bag. Or glove box. Or stroller. Or...
No. 3
:
Estee Lauder Time Zone Line & Wrinkle Reducing Creme SPF
, $58. Turn back the hands of father time
while
keeping the sun's harmful paws off my complexion? Yes please. The hyaluronic acids (three of them, in case you're counting) in this multi-functional cream up the wattage from a ho-hum SPF to a rock star wrinkle fighter.
#4
:
Bumble and bumble Leave in Conditioner
, $21. This creamy leave-in conditioner is so much more than a simple dry hair quencher or detangler. It also doubles as a styling cream. Before blowing dry, I mix mine with shine serum to create the perfect hair-smoothing cocktail. Oh, and it smells heavenly, too.
There you have them, my newly discovered double-duty do gooders. Thoughts? Have any that you love? Oh, you know what else makes me happy (and more time efficient?):
beauty pads and towelettes
-- talk about lifesavers!

Our Expert Guides