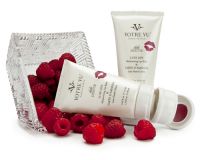 Votre Vu Luxe Lips Framboise & Luxe Hand Creme 2 Pack
As low as
Votre Vu Bebe Duette

Best Invention..saves you from having 3 products in your bag. A light yet refreshing and hydrating shea butter hand creme that has a lip balm above it and a mirror underneath it. You don't want to leave home without this. If you want to learn more about this line email at at VUtifulskin at gmail. I'm in the LI, NYC area Melissa Yvonne

BeBe duette

It is hard to improve on this product but Votre Vu just did it! Raspberry lip tint is now available on this product. Clever packaging includes a luxe hand cream with a moisturizing lip balm in the lid!

Back
to top