The $3 Drugstore Product That I Wouldn't Dream of Upgrading

Posted 01/20/11 at 01:19PM by Audrey Fine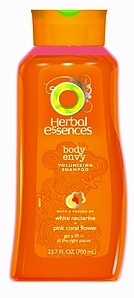 It's readily apparent (if you read this column with any regularity) that I'm a textbook product junkie. And, while I love me some beauty booty, I'm also a single mom on a mostly fixed income whose budget these days can't afford her to flirt with the cosmetics counter at Barneys too often.
While the restraints of a one's pocketbook can be alternately challenging and frustrating, it's nothing the love of a few great, well-priced products can't soothe. And, nothing cures what ails my penny-pinched persona more than
Herbal Essences Body Envy Volumizing Shampoo
, $2.99.
Not only does this weightless formula make my hair feel great (and cooperate well), it
smells
divine -- a blend of nectarines (peaches?) and pink coral flowers that brings me back to a carefree time of strawberry lollipops (sounds SO hokey, I know, but, it's what I picture every time I lather up.) And, truth be told, I wouldn't trade this drugstore treasure for all the hoity-toity luxury shampoos at Bergdorf's.
What's your favorite affordable product? (And for which, like me, do you
justify the splurge
?)

Our Expert Guides