What Do You Get When You Cross Blonde Hairstyles with Brunette Ones?

Posted by Kristen on June 17, 2010 at 05:35PM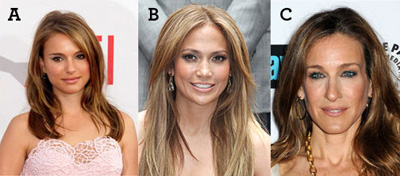 Answer: Bronde. No really -- we're not making this up. Hair color guru Kim Vo coined it (though we think we have heard it before). To get that perfect blonde-brown hair color hybrid a la Sarah Jessica Parker et al. (you gotta check out these best and worst celeb hair color photos), Vo says it's achieved "by painting a few select top layer pieces of hair by using two different volume lifting creams" which creates "a beach-y look that is naturally sun-kissed with dimension and depth." To maintain your bronde hair and protect it from UV rays, try Kim Vo Brilliant Luster Glaze, $24 weekly for five minutes in the shower.
OK, so whose bronde hair are you gonna copy? Natalie Portman's darker take on this trend (A), J Lo's lighter version (B), or do you prefer SJP's look (C)?
• Check out this blonde-to-brunette hair makeover.
• Shhh … we've got some secrets to share on how to get shiner hair.
• See more photos of hairstyles and celebrity hairstyles.
• Want in on a little beauty discount secret? See how to get great deals and offers on beauty products here.
• Keep up with the latest in beauty -- follow us on Twitter, add us on YouTube and friend us on Facebook.