Fake Body Tattoos: A Do or Don't?

Posted by Kristen on June 21, 2010 at 01:17PM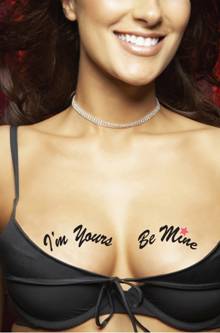 Celebrities get to have all the fun. They get to rock some serious body art (proof: check out this celebrity tattoo gallery). They get to wear crazy-cuckoo nails that would make the fiercest of DMV employees jealous (see some wacky celebrity nails here). They get to be super-duper sexy whenever they darn well please. It's so not fair.
Don't WE want to ditch the office and ride motorcycles or play Laura Croft in blockbuster-big-budget flicks? Don't WE want to wear cool rocker 'dos like Rhi Rhi (see Rihanna's hippest hairstyles) and sport trashy tattoos like celebrities or rebellious, fresh out of the nest 18-year-olds?
Somebody thinks we do! Conservative ladies of the world, I would like you to meet that "somebody": ta•ta•toos. These aren't the 50-cent temporary tattoos you buy for your kids at Albertson's. These are "grown-up" temporary tattoos that you wear ... on your breasts -- or décolletage, if you want to get specific.
And because I am so excited about this momentous new product (note the sarcasm), I have created my own infomercial for them:
"You know, those breasts that have been chillin' idly on your chest since puberty? Well, it's finally time to put those lazy girls to work. Because if you're not breast feeding and you're single (and not dating) they're really kinda useless, until now. Now your breasts can be your personal greeting cards -- no joke! That's right; ta•ta•toos, temporary tattoos specifically for your breasts, can now handle your biggest announcements and sentiments like: "Let's Celebrate", "Guess What? I am Pregnant" and "Happy Birthday". You'll never have a hard time with a birthing announcement ever again, with ta•ta•toos!"
These do seriously exist. Seriously. Check them out at www.gbsbeauty.com
*Try one of these sexy summer hairstyles to wear with your new daring tattoos
*Boob tats didn't rope him in? See ways to bring you closer by getting gorgeous with your guy
* Want in on a little beauty discount secret? See how to get great deals and exclusive offers on beauty products here
*Keep up with the latest in beauty -- follow us on Twitter, add us on YouTube or become a fan on Facebook.