Angelia Jolie Thinks Her Lips Are Too Big -- Uh, What?!

Posted by Sarah on June 1, 2009 at 05:22PM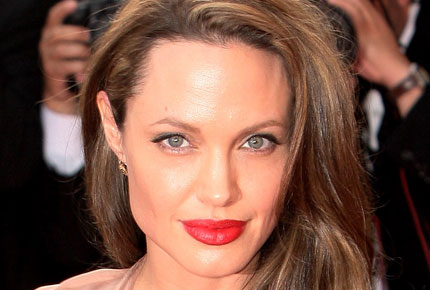 Beauty news from Cannes! Angelina Jolie appeared at the "Inglorious Basterds" premiere wearing gorgeous red lipstick. Normally, Angelina sticks with nude or pale pink lip colors, so this was quite surprising (don't believe me about the nude lips? check out these pics for proof).
The rumor is that she normally shies away from bold lip colors because she thinks her lips are too big (um, she would be the only person with this opinion, am I wrong?). But maybe this new shade will grow on her, we think it's striking.
Want lips that look like Angelina's? Well, we can't do much about the size (we're not cosmetic surgeons), but we can help you recreate her color:
1. Start with a smooth, soft surface. The night before you want to wear a bold lip color, exfoliate lips (you can use an old toothbrush, just wet it and brush your lips) and apply a moisturizing lip balm (or this).
2. The day of, start by using a lip liner -- any of these will work perfectly -- that matches the lipstick you'll be wearing. Line your lips, and then fill in the rest of your lips -- it'll give the lipstick something to cling to.
3. Next, use a lip brush to carefully apply your lipstick. For a matte finish -- and added staying power -- place a tissue over your mouth, then lightly dust with translucent powder. This allows a bit of the powder through to set your lip and cut down on shine, but without making you look like you couldn't keep away from the powdered donuts.
4. If you want a shinier look, apply a clear lip gloss to finish. (A dot of clear gloss in the center of your lower lip can make it look a bit bigger, helpful if you're really trying to look like Angelina.)
Need the perfect red lipstick? Try one of these:
• Not sure if you're a red lipstick kinda gal? This quiz will help you find the perfect shade.
• Looking for cheap alternatives for your fave shades? We've got 'em here.
• If you win this $5,000 Sephora shopping spree, you could buy a rainbow of lipsticks to try (er, maybe not the whole rainbow, unless you like this model's look).