"True Blood" Cast Features Nude Body on Rolling Stone Magazine
Posted on August 17, 2010, 2:11 PM
True Blood's cast is featured on the cover of Rolling Stone Magazine looking hot, bloody and did I mention naked?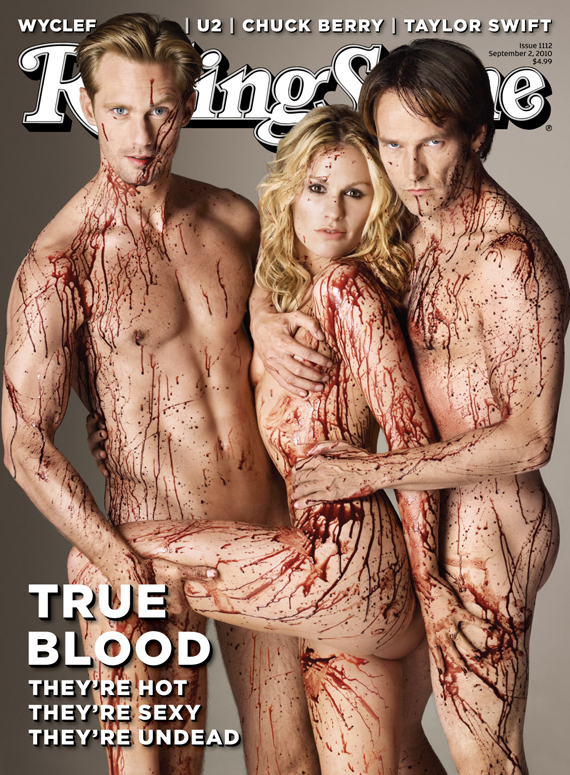 Photo Courtesy of: RollingStone.com
Immortality, sex scenes and bloody carnage -- what more can you ask for? According to "True Blood"'s Season three, the answer is clear: nothing. With ratings steadily climbing, "True Blood" gives the vampire story a sexual spin with director Alan Ball saying that "vampires are sex. I don't get a vampire story about abstinence. I'm 53. I don't care about high school students. I find them irritating and uninformed." The only thing missing from that direct insult to Twilight's Stephanie Meyers is "yo mama."
With sex being the focal point of the series, it shouldn't come as a shocker that the cover of the upcoming
"Rolling Stone" Magazine
features the True Blood cast wearing nothing but blood. Lots of blood.
The September 2nd issue features Alexander Skarsgard, Anna Paquin and Stephen Moyer completely naked and cleverly covering each other's private parts. The vampires are looking fit and slim with faux blood splashed onto their bodies and faces.
Paquin and Moyer met on set as they were filming the pilot in Los Angeles. Their onscreen characters Bill and Sookie just got engaged shortly after the pair announced their own real-life engagement. Moyer said in an interview with RedBook, "Everybody on set now gets to see what goes on behind closed doors. We leave nothing to the imagination!"
He couldn't have spoken truer words. In just the last episode we got quite a look at Paquin's vampire-perfected body in a steamy shower scene.
In the story featured in "Rolling Stone," Moyer says, "If we go from a base level, vampires create a hole in the neck where there wasn't one before. It's a de-virginization – breaking the hymen, creating blood and then drinking the virginal blood. And there's something sharp, the fang, which is probing and penetrating and moving into it. So that's pretty sexy. I think that makes vampires attractive."
I think Moyer, Paquin and Skarsgard standing naked on the cover of Rolling Stone is reason enough. The amazing bodies of the True Blood cast, however, comes with a price as True Blood's Kristen Bauer admitted the cast is always going hungry due to constant dieting (
read the full story here
).
If you don't approve of half-starvation to get into fantastic shape like Paquin, then check out these easy tips on
how to fake a toned body
. In addition to her "perfect"
body
, Paquin also has amazing hair whose casual summer hairstyle is to die for. You can check it out in the
Best Casual Updos for Summer
gallery.
Not that we're going to be on a magazine cover sans undies anytime soon, but being covered in ketchup isn't the only reason to make sure your body skin is in perfect condition. It's important to exfoliate once a week and use lotion after showering so that your skin doesn't lose its moisture. You can avoid these
worst drugstore body lotions
when picking one for your close up.
And if you deal with bacne (as I do … sigh), then check out these easy tips on
how to treat bacne the right way
from a certified dermatologist.
And finally, while the vampires do go for the pale, "I'm freezing because I have no heart pumping blood through me" look, with another heat wave rolling through the states this week it might be a better idea to
not
look like you just spent a week with the Palins (get it? Pale-ins? In Alaska? No?). Check out this video on
how to apply tanner
perfectly since no one wants melanoma.
The Rolling Stone issue with True Blood's cast will be available on newsstands on August 18th.
By Sharon Yi