Elizabeth Hurley wears too much eye makeup, too little underwear
Posted on February 24, 2010, 12:35 PM
Elizabeth Hurley is no stranger to showing some skin, and the star often showcases her enviable curves in form-fitting outfits. Though she usually looks beautiful, the actress recently appeared at a charity ball wearing too much eye makeup and not en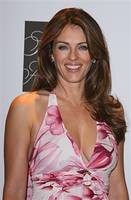 Elizabeth Hurley showed a lot of skin last night.
Hurley, pictured here at another engagement, donned a sheer Sari with nothing underneath it to last night's event. Perhaps she didn't realize that the bright lights of the paparazzi's cameras would shine right on her bare, um, assets? (Somehow we doubt that!)
However, Hurley did remember to pile on the eyeliner. Perhaps she was so focused on perfecting that "raccoon" look that she just plumb forgot to put on a bra?
The Brit showed off a little more than most people would deem decent, but we have to say that her skin looks radiant and her figure is slamming. More power to her if she feels like putting it out there!
Hurley sports a deconstructed take on a Sari, but she seems to love the look, as she opted to wear the traditional Indian dress at her Hindu wedding to husband Arun Nayar in 2007.