Should Stars Match Their Makeup to Their Oscar Dresses?
Posted on March 9, 2010, 1:22 PM
Is matching your makeup to your outfit back? We thought that the trend called it quits back in 1987, though it seems that Vera Farmiga, pictured here at the Academy Awards, and a host of other celebs were all about matching makeup at this year's Osca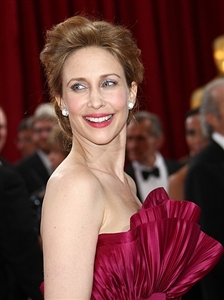 Vera Farmiga matched her makeup to her fuchsia Oscar gown.
The Best Supporting Actress nominee donned a ruffled fuchsia Marchesa dress, and matching lipstick. Though it's unfortunate that the shade clashed with the red carpet (planning people!), we think that the whole ensemble had kind of a flamenco-dancer vibe -- yet Farmiga looked beautiful.
But, in our opinion, Farmiga is a special case. In other words, do not attempt this trend at home. One false move and you'll be searching for the perfect powder blue eyeshadow to match to your "Flashdance"-inspired leg warmers, which, we promise, will not be an Oscar-worthy look.
Another Oscar nominee who paired her makeup with her gown is Gabourey Sidibe. The actress, who donned a royal blue dress, was also sporting metallic blue eyeshadow with a hint of gold.
We love the gown but we're, ah, up in the air about the
eye makeup
. What do you guys think?