Snooki Takes Off Everything (But Her Makeup) for Nude Pics
Posted on February 16, 2010, 3:51 PM
Just in case the "Jersey Shore" wasn't already getting enough publicity, an anonymous person operating under the handle "NakedSnooki" has been tweeting racy pics of the reality star, pictured here and somewhat clothed, wearing not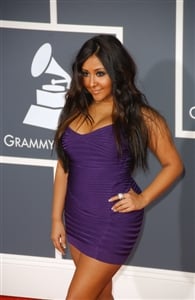 Snooki is known for her heavy makeup and outrageous personality.
The first photo released shows a person, who appears to be Snooki (real name Nicole Polizzi), completely nude and crawling on the floor. Viewers can't see the face of the girl who is allegedly Snooki in the second photo, but she has the same long black hair and olive skin as the star.
Though it hasn't yet been confirmed whether either of the pictures are authentic, the woman featured in the photos clearly shares Snooki's love of tanning, and the bedroom in the background of the revealing shots seems to match the star's actual digs, according to "PerezHilton.com".
The photos come hot on the heels of a tweet from the starlet that read, "There are no nude pictures now nor will there ever be. The tabloids just love Snook gossip."