Ke$ha Talks about Giving Homemade DIY Tattoos with a Safety Pin -- Yikes!
Posted on July 27, 2010, 6:03 PM
Ke$ha, with a dollar sign not an "s", is not only topping the music charts, but also the DIY home section of MarthaStewartGoneWrong.com. (This is a fabricated website.)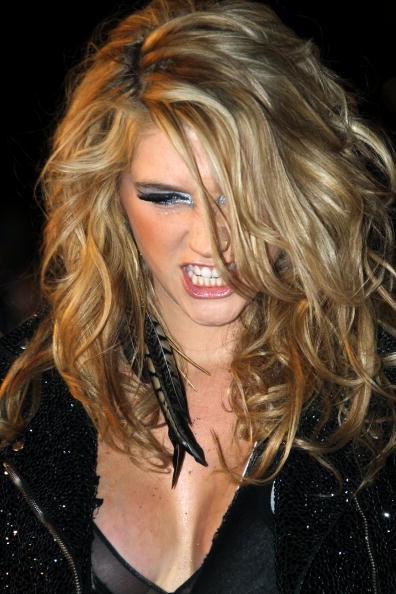 Ke$ha Talks about Giving Homemade DIY Tattoos with a Safety Pin -- Yikes!
The grunge-loving, Jack-drinking, singing sensation known as Ke$ha (pronounced keh-sha) graces the cover of the new issue of
Papermag
and talks about spanking boys, dishing out pick-up lines and the many ways in which she creates loyal fans. One way she is increasing her fan base: Giving them homemade body
tattoos
with a safety pin. Permission to scream and run granted.
In the interview for Papermag, Ke$ha said, "A friend of mine told me you can [create a tattoo] with pen ink and a safety pin and I was like 'That's amazing. I could give tattoos at anywhere in the world at any hotel.' I saw this hot dude recently and I gave him a tattoo sitting in the lobby of the hotel. I was just like 'Can I borrow a pen and a sewing kit?' I think I got an admirer out of that one."
The DIY home tattoos, as one website says, "are f***ing cool!" The pros: They're free. The cons: You can die. Just kidding, but they aren't totally sanitary if you can imagine sticking a burning hot safety pin into your skin.
Now, in no way am I or Total Beauty supporting DIY body tattoos (unless they are the removable ones found in vending machines at the supermarket), but just for satiating curiosity let's see what Ke$ha did to the poor unassuming man in that hotel lobby.
According to
eHow.com
, to make a homemade body tattoo you'll need:
• Safety pin
• Rubbing alcohol
• Boiling water
• 2 towels
• India Ink
• Unscented body lotion
Boil the safety pin in water for about five minutes then douse it in rubbing alcohol in order to sterilize the household product. You might also want to wash your hands with antibacterial soap, but if you're like Ke$ha, you can skip this step.
Next, lay down two towels, one to soak up the inevitable dripping of the ink and the other to soak up the inevitable bleeding of your freshly safety-pinned skin. Dip the safety pin into the ink and puncture your skin following the previously penned in marks of your chosen design.
Finally, when finished with your masochistic design, you can remind all your friends how un-cool it is to do anything this stupid by showing off your DIY body tattoo, which you got for a fraction of the cost and safety offered at a tattoo parlor.
While producing unsafe home beauty procedures is quite notable, the 23-year-old pop star is best known for her catchy dance songs topping the charts. She once said she liked to make music that people can dance to in this time of economic instability. Her debut album,
Animal
has sold almost 800,000 copies since its release in January despite her raspy monotone voice. Good thing her class level is right up there with her singing abilities. Ouch.
By Sharon Yi