Kate Hudson Attracts Attention in Red Lipstick
Posted on April 30, 2010, 5:18 PM
Kate Hudson has been in the news recently for her possible plastic surgery, but the girl has been stepping out all over town looking especially fierce in red lipstick. Maybe she's just trying to draw our eyes away from her chest?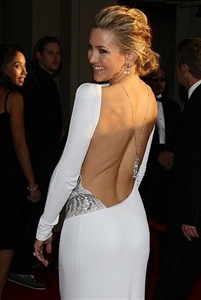 Kate Hudson Attracts Attention in Red Lipstick
Hudson looks great in ruby red lips - the bright hue brings out her sparkling green eyes, and gives her more of a vintage Hollywood vibe than her typical California-casual look.
Though the lipstick may be an attempt to prevent us from talking about whether or not she had
plastic surgery
, we think that the starlet, pictured here on the red carpet, might be onto something.
Lipstick, which was kicked aside by many women when lip gloss became every girl's go-to, is experiencing a resurgence in popularity.
"The Huffington Post" recently featured an article written by makeup artist Napoleon Pedis, in which the professional waxed philosophical about lipstick and urged women to give the vintage cosmetic another shot.
Kate looks great in red, but we think that part of the fun of wearing makeup is figuring out which colors work best on you. Head to your nearest cosmetics counter and give any shade that catches your eye a try!