Kate Beckinsale Uses Green Eye Makeup at Movie Premiere
Posted on December 4, 2009, 11:09 AM
Just in time for the holidays, actress Kate Beckinsale recently showed off a soft green eye shadow that is the perfect look for any event.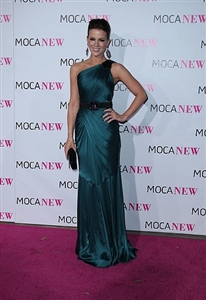 The actress at a recent event
The actress, pictured here, recently showed up at the Everybody's Fine premiere and decided to show off her brown eyes with green eye makeup. However, this makeup idea can work with any eye color.
Start by applying green shadow at the base of your lids. If you want a look like Beckinsale's, try a sea-foam color, but emerald would work great too. Use an eye makeup brush to blend the color around your whole lid, but don't spread it too far past the crease.
If you would like a more dramatic effect, use a little dark beige shadow above the lid and blend it into the base color.
Next, line your eyes with an emerald eye liner. It should be a couple shades darker than your eye shadow. With a lined brush, take the base shadow color and line your eyes with it, over the eyeliner.
Add a few coats of black mascara and you have a perfect holiday party look.